I have over 20 years of experience working in product management and software development. Currently, I work as the Director of Product Management at Comcast Business, where I coordinate with 5 cross-functional teams, building unique products that are helping businesses communicate and collaborate using the tools they already use every day! I'm deeply enthusiastic about creating products that are intuitive and a pleasure to use.

Previously, I worked at Harman as Director of Product Management, where I led a cross-functional team of 6, digitally transforming products and services for our partners and customers to the cloud, allowing system designers to collaborate in real-time across the globe, using advanced analytics that allowed for continuous iteration through experimentation.

Prior to that, I worked at Cisco as a Product Management Leader, where I was able to introduce a new SaaS product leveraging many industry standard practices and tools such as PaaS applications running on Cloud Foundry.

Outside of work, you'll find me spending time with my family when I'm not on the golf course!

I also like meeting new people over a cup of coffee. Feel free to reach out at rudytibuni@gmail.com or visit my Portfolio Page at https://rudytibuni.journoportfolio.com/.

Competencies: Product Management, Product Strategy, Product Development, Agile Methodologies, Strategy, Software as a Service (SaaS), Cross-functional Team Leadership, Product Marketing, Go-to-market Strategy, Strategic Partnerships, Business Strategy, Enterprise Software, Integration, User Experience (UX), Analytics

Technical Profile: Cloud Services, Network Security, VoIP, SD-WAN, SaaS, Tableau, Power BI, JIRA
What follows is an overview of my career.  My hope is that this will highlight my product management and leadership skills.

Director of Product Management, Cloud Communications
I am currently Head of Product responsible for day-to-day operations and outcomes for the SaaS Cloud Communications business, one of the 3 main lines of business for Comcast Business - Masergy, with the others being SD-WAN and Managed Security, driving cross-functional requirements to both.  Cloud Communications is made up of 3 product lines, Contact Center, Unified Communications, and Hybrid solutions, including Microsoft Teams integration.
I lead Product and collaborate closely with the Engineering and Operations teams to enable successful outcomes, including prioritizing the overall business needs for all customers but allowing for customization for specific customer deployments.

I am responsible for team development, product vision, execution, and growth of the overall business.  My accomplishments include:

Produced the product vision and roadmap to focus on end user experience by prioritizing the backlog, achieving 12% growth in revenue year over year
Conceived new B2B SaaS product offering after rigorous selection process, A/B testing, and contract negotiation, resulting in 30 new labels last year with annual savings of over $150k
Drove fraud detection priorities for platform to ensure only authenticated and authorized users were able to access system, saving operations team $100K in monthly fraudulent traffic costs
Implemented Agile methodologies, based on data-driven prioritization and iteration through experimentation, which improved efficiency by 30%, resulting in ability to handle 8 launches and updates per year
Coordinated with 5 cross-functional teams to reverse downward trend in net promoter scores with automated outreach and customer interaction
Conceptualized data-driven approach and strategic planning for supply chain forecasting, resulting in a 20% increase in on-time shipments
Highly technical, hands-on contributor with engineering
Introduced Kanban process to streamline change board team and stakeholder communication, resulting in 30% increase in new sales
Developed & mentored empowered product team
Directed strategic go-to-market plans through market segmentation, positioning, pricing, promotions, product launch activities, and product life cycles
Below is a final version of the calling user experience when using Microsoft Teams with the Comcast Business - Masergy Platform that I drove into the product.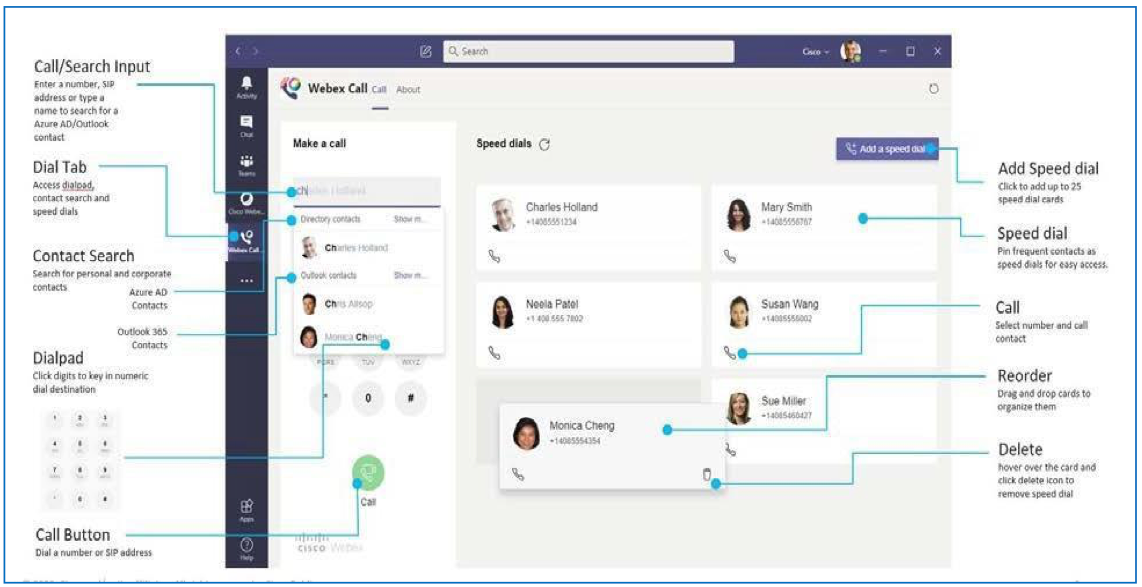 Director of Product Management, Video and Control, Harman Professional Solutions
I was Head of Product Management for Harman Professional's Video and Control business unit, responsible for SaaS management software and A/V hardware.  My primary focus was to transform the management software to a cloud-based management system, allowing for collaboration from global contributors in a fashion similar to Microsoft or Google productivity tools.

Led product team of 6 senior managers to develop and launch product roadmap, increasing quarterly revenue by 10% and achieving 90% customer satisfaction rating
Guided and mentored global cross-functional product team of 11 and fostered Agile SAFe environment, with team based in US, China, and India
Skilled negotiator with experience managing OEMs, component suppliers, and 3rd party hardware and software partners
Spearheaded implementation of efficient deployment strategies, reducing time to launch by 50% and increasing number of successful updates by 25% per year
Transformed venue design software to cloud, allowing for 50% reduction in SME travel costs
Conceptualized product design and roadmap according to market data and research and coordinated all aspects of development and rollout
Drove FedRAMP FISMA and NIST compliance and development for hardware and software products for sale to US Federal Government.  Here is a link to the white paper I authored.
Below is a typical example of the number of different software and hardware products that required product ownership and scrum that I owned.

Cisco (October 2006 - December 2017)
Product Management Leader, Webex Calling
I was Head of Product for Webex Calling, creating a new product built for the cloud, and also led product management for Cisco's $1.5B IP phone business. 

Introduced new collaboration SaaS offer that resulted in $1M in bookings revenue months after launch using Agile SAFe patterns
Led global team of 15 product managers, generating over $300M in hardware and $200M in software revenue using Agile Scrum with team based in US and China
Shaped data-driven approach to supply chain forecasting for 1.5M units of product per quarter including repair and circular economy logistics
Evaluated and awarded 2 product lines to contract manufacturers after RFP process
Implemented new Sales Channel by fostering new partner relationships to nurture customer and product adoption, adding 12 new partners first year of launch
Defined product roadmap by incorporating information from market research, consumer trends and customer specifications
Aligned and executed product vision in close collaboration with executives and technical lead
Below is a picture of the end result of product requirements that I drove and created for how the calling experience should be implemented in Webex.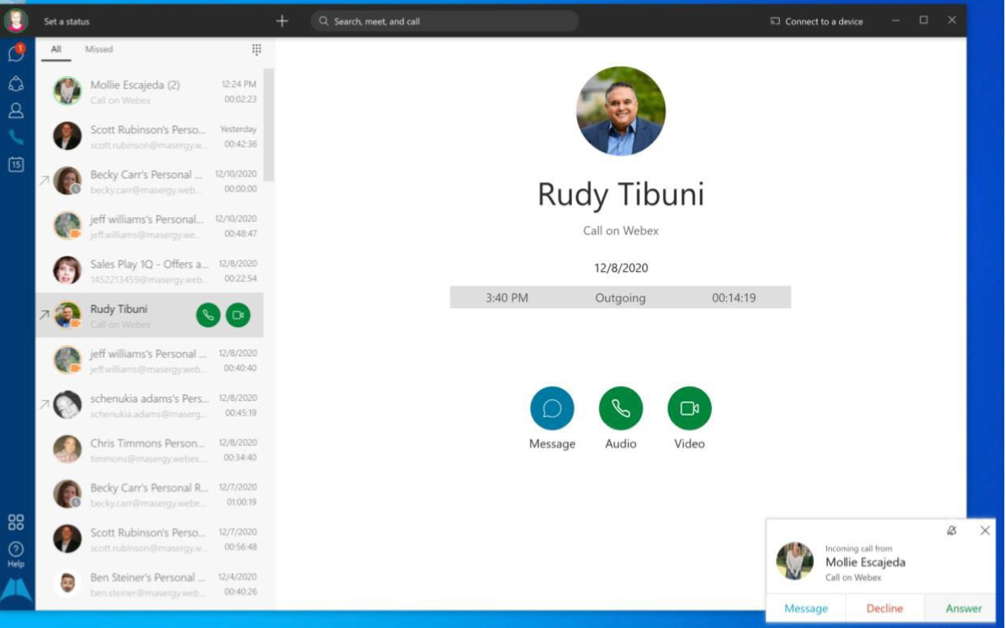 Nortel (January 1995 - September 2006))
Senior Manager, Engineering / Product Manager, Enterprise Security  
It was during my  time at Nortel that I realized my engineering skills could easily translate to product management.  I had the luxury of doing both.  My responsibilities included:

Spearheaded J.I.T.C. (Joint Interoperability Test Command) certification of product lines for use by the Federal Government and other government agencies, including requirements for FIPS, DOD, Common Criteria and STIGs.
Fostered a cross-functional, global team of 20 engineers responsible for support and development of IMS platform written entirely in Java software
Producing product security roadmap and product vision for 3 product lines, enabling $2B in annual revenue.